Product name:X2BACnet1022
Product model:BAC1022-ARM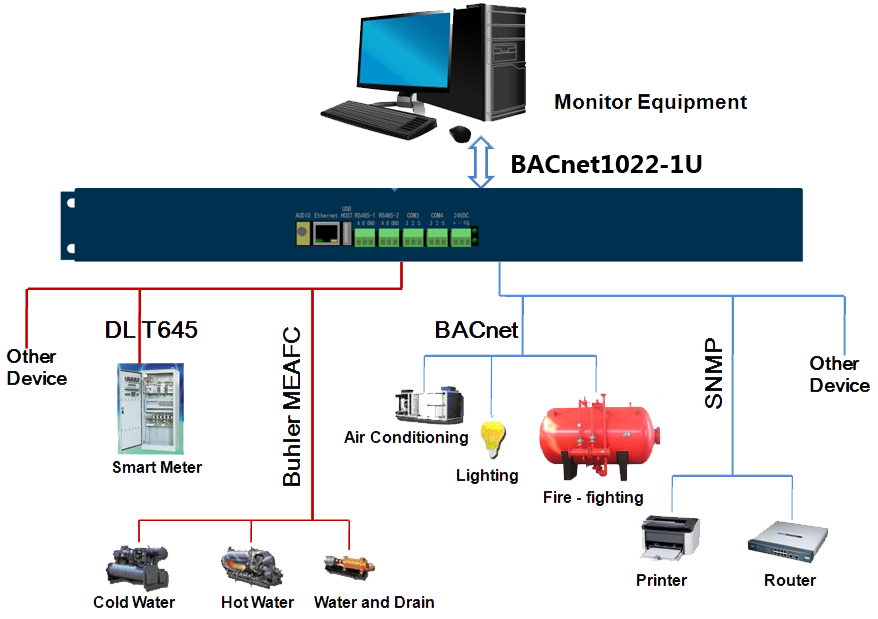 Feature
X2BACnet is a very powerful protocol conversion gateway, X2BACnet mean X represents different communication protocols, 2 is the To the harmonics said transformation, BACnetIP is the BACnet eventually support standard protocol . Allows the user to according to the field device configuration, communication protocol of into standard BACnetIP or BACnetMSTP agreement. After the PC simulation run correctly, uploaded to the hardware in the protocol conversion gateway.
Definition:X2BACnet as a communication bridge,it transfer different protocol to BACnet Protocol. It supports insight of Siemens, Metasys of Johnson control ,EBI of Honeywell and Niagrara etc, BACnet gateway make different machine seamless integration.
Advantage:
1.Easy to Configure and Operation.
2.Support Java Script.
3.Support Chinese and English English,and easy to add any language if the user required.
4.Support PC simulation with X2BACnet.
5.Support the User review data and communication status. And download files and X2BACnet software from website.
6.Support different protocol transfer to BACnet Protocol.
7.Gateway support analog linear transformation, support function, high and low byte exchange function.
8.Support the user permission management.
Operation Platform
Support Windows XP/2000/2003/Win 7/Win8,
WEB with above IE8 version,Opera、Safari of apple、Google Chrome and firefox。
Supported Registered Type and Quantity
Internal support BACnetIP server gateway,The default port is 47808,Device ID assigned by the user, be careful not to conflict with other devices within the same network segment, the support of the server's register type and the number in the following table .
Note: gateway each register can build up another 1024 points, and the maximum six types of BACnet register a total of 1024 points, the specific points assigned by the users themselves.
| | |
| --- | --- |
| BACnet register type | BACnet register number |
| Analog Input | 1024(0~1023) |
| Analog Output | 1024(0~1023) |
| Analog Value | 1024(0~1023) |
| Binary Input | 1024(0~1023) |
| Binary Output | 1024(0~1023) |
| Binary Value | 1024(0~1023) |
Application Fields
Hardware gateway is support multiple protocol conversion, can solve the Honeywell, Siemens, Johnson controls such as large building automation companies are unable to connect to some of the less common configuration software control equipment, through hardware gateway to convert non-standard agreement to BACnet standard protocols, make BACnet client configuration software can access.
Features of Hardware
-Windows CE/32 Bit 400MHz RISC ARM926EJ
-DC24,7W
-Three layers of isolation
-1Ethernet port ,2RS232,2RS485
-Size: 169 x 94 x 28 mm, weight: 400 g
-aluminum alloy shell, installation method: wall, guide rail type
Support below protocols
1 BACnet IP
2 BACnet MS/TP
3 Modbus RTU
4 Modbus ASCII
5 Modbus TCP
6 Modbus UDP
7 Modbus RTU_TCP
8 Modbus RTU_UDP
9 Modbus ASCII_TCP
10 Modbus ASCII_UDP
11 OPC XML-DA OPC
12 SNMP
13 Simulator
14 MBus_HYDROMETER_SCYLAR548
15 MBus_HYDROMETER_SHARKY773
16 MBus_HYDROMETER_SHARKY774
17 MBus_Honeywell
18 MBUS_AKE
19 MBUS_XinTuo
20 MBus_Landis_Gyr
21 MBus_Siemens_FUE950
22 MBUS_MaiTuo
25Hitachi Elevator BA Iterface
26 Mitsubishi Elevator SMOS-PS2
27 Mitsubishi Elevator KLR-F485
28 Otis Elevator BA Interface
29 ModbusTCP_Thyssenkrupp_Elevator
30 Mitsubishi Elevator MAIEZ
31 Modbus_Otis Elevator
32 Modbus_Kone elevator
33 Modbus_Kone elevator ASCII
34 DLT645-1997
35 DLT645-2007
36 Modbus PM800
37 Modbus IEM3000
38 CDT
39 EMERSON_ACM03U1
40 Http BA
41 Joton Tmaster
42 VRVManager
43 VotonThermostat
44 Hitachi_Chiller
45 Mitsubishi FX1S
46 MEGMEET_MC200
47 Mitsubishi FX2N
48 Mitsubishi FX3U
49 Mitsubishi FX_485ADP_485BD
50 Haiwell E/S PLC
51 Haiwell H/N PLC
52 Panasonic FP
53 XINJE PLC
54.Siemens S7-200 PPI
55.Siemens S7-200 Network
56.Siemens S7-300 Network
57.Siemens S7-1200 Network
58.XT55 GPS SERVER
59 DyNet
60.Modbus LDS LDS
61.MicroPara_DR0816
62.MicroPara_DR1220
63.LitePuter_DP_105E
64.LitePuter_PLNET
65.MicroPara
66.SANTAK UPS
67.DELTA UPS ES3000
68.LEGRAND UPS
69.EMERSON_HIPULSE
70.Cibsolar_CA
71.Kaseman GRC TNC-6
72.JB-3208 CRT
73.Siemens Cerberus FS18
74.LTM9662_485NETM9600
75.Buhler_MEAF
76.FFU
77.HeFei_Ahhfat
78.Panasonic MINAS A5
79.SINOLY JINE_JA05
80.SAUTER_CASE_VAV
81.saj110 _AlarmSystem
82.EMEC_LDPH
83.RKC_CH402
If you have any other proprietary protocol development, not development fee, only need to send the equipment, the development cycle of 2 weeks.
If you have any question, please contact Shanghai Sunfull 021-58776098 support@opcmaster.com